Rehearsals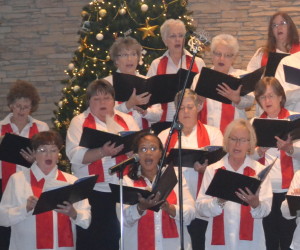 No audition is required. Rehearsals will resume, if possible, in September 2021. They are held at Oakwood UMC in Pleasant Hill from 7-9 pm on Tuesday evenings. Rehearsal attendance is not mandatory but is encouraged, especially the last two weeks before the concert. We usually sing 12-13 pieces for each performance. Music is not memorized. Please bring a black binder/three ring folder and a pencil for rehearsal.
There is no fee for joining the group or for music, unless the music is lost or ruined.
Concert Attire
Spring Concert: We wear Heartland Singers polo shirts with dark pants. New members can order shirts during the season.
Christmas Concert: White shirt or top, black pants or skirt, black shoes. Red scarves and bow ties are provided.